At FullFocusK9, we strive to provide you with dog training that establishes a solid foundation, builds focus, and gives freedom to bring out the best in your dog!
Highly recommend checking out some of our training videos on Instagram!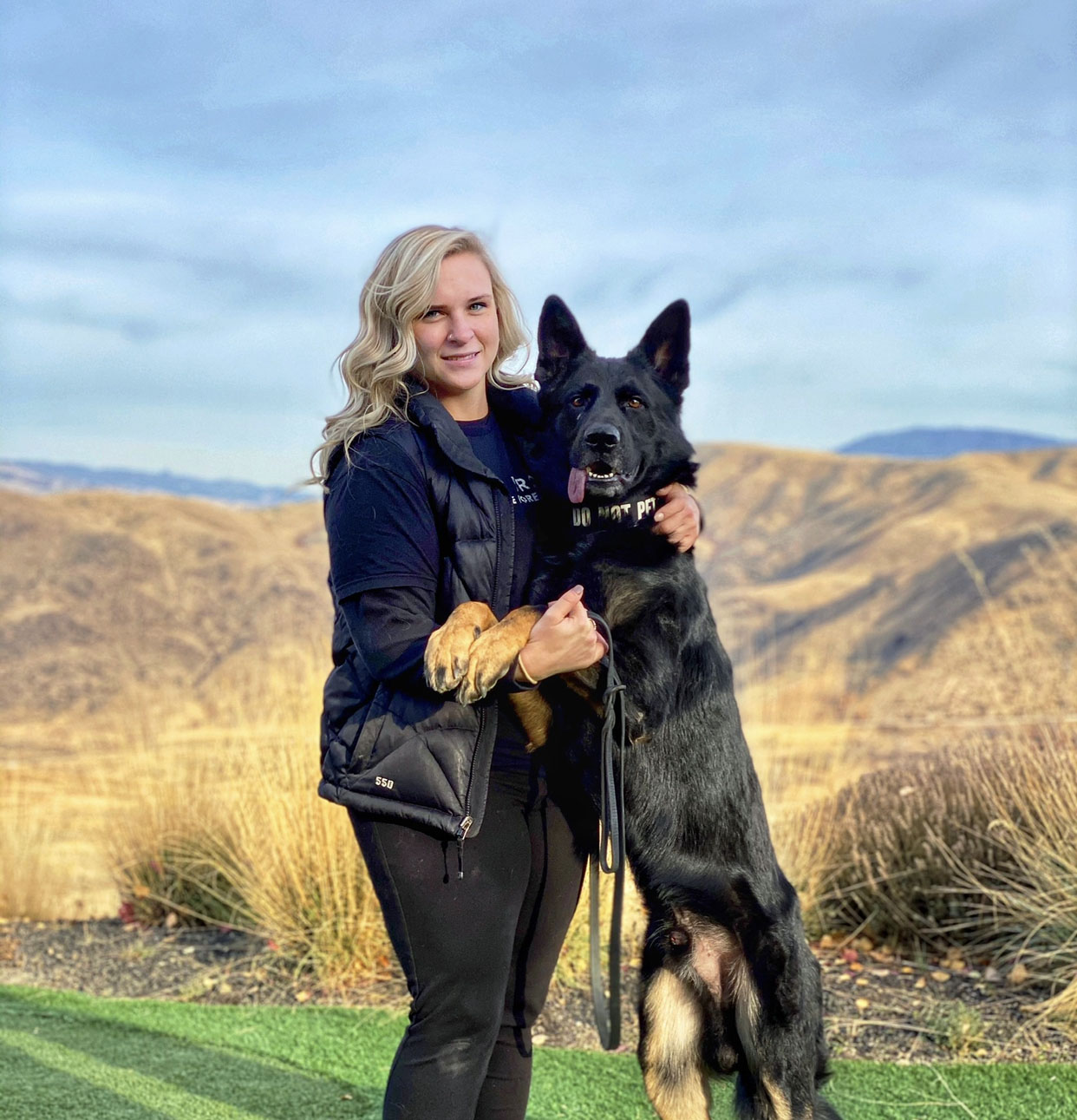 Hi! I'm Mary and I am the founder and owner of FullFocusK9. I currently live in Georgia on a 6.5 acre farm with my horses, dogs and cats. I didn't always live in Georgia, I was actually born in Romania, and adopted by an amazing family. I've always had a deep love for animals and my mother blessed me with being able to work with animals at an early age. I was the odd ball of my very 'techy' family and was always finding animals to play with or adopt.

I started riding horses as early as 3 years old and owned my own horse by age 12. I learned early on how much work went into owning animals, but because of my passion for it, I loved the responsibility. Working alongside horses and farm animals has prepared me for my career with other animals as well, such as dogs. I have competed with horses and my dogs, managed horse farms, trained horses, taught summer camps, and trained barn dogs.

I've had dogs my entire life and was always at the animal shelter or bringing dogs home. I'm 'that girl' at outings or family functions that can be seen petting the dog. PS: tell your dog I said hi!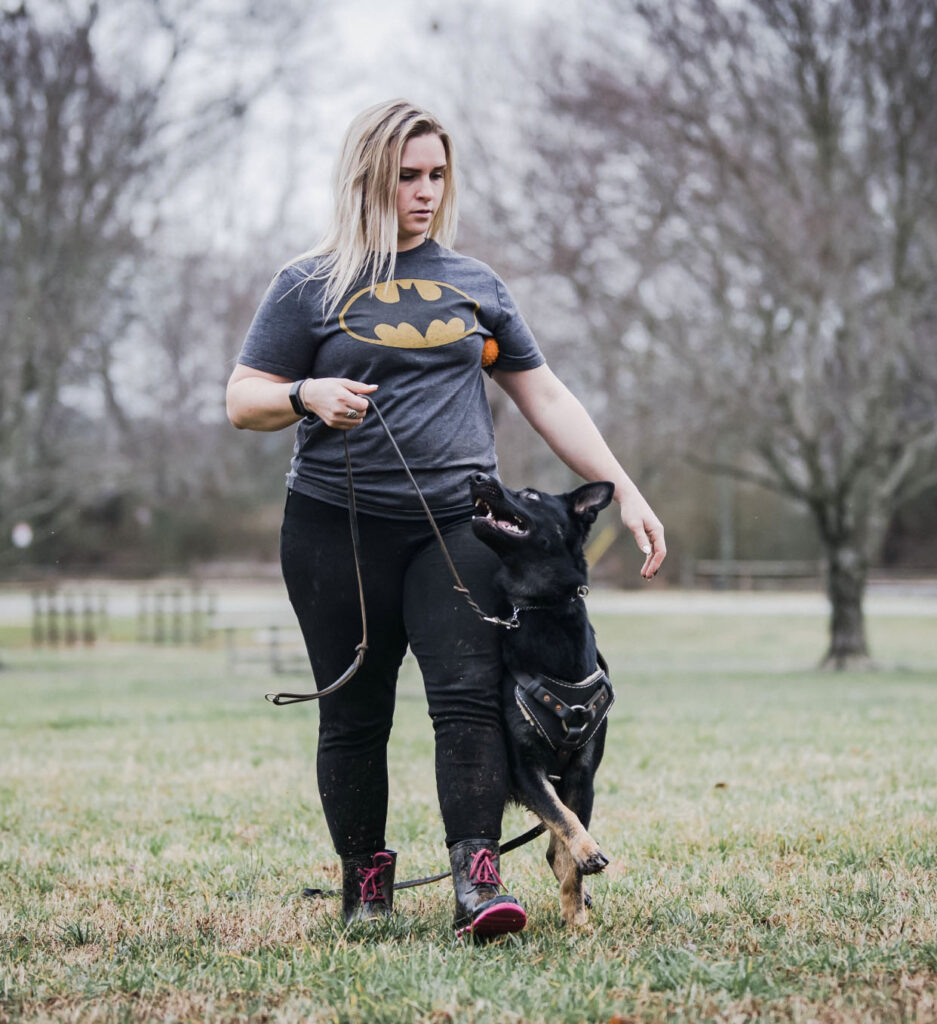 Initially, I set out to be a veterinarian but after a year of being enrolled in a pre-vet program at Berry College, I realized I was more interested in the psychology of behavior in animals, than the medicine.
I've always had a deep interest in K9 handlers and police dogs so I transferred and completed my Bachelors Degree in Criminal Justice from Kennesaw State University. This is when I adopted my German Shepherd, Caesar, who changed my life forever (more below).
While I had set out to become a K9 officer, there were no open positions in the foreseeable future. I was a police officer for 2 years and it was an amazing experience I'll never forget. I enjoyed law enforcement deeply, but I wanted to pursue what I am most passionate about, training dogs.
Now that I have been professionally training dogs for 8+ years, I have found a niche that I specifically enjoy – Behavior Cases. They almost always have the most rewarding turn around and most are misunderstood. Behavior cases take a lot of work, time and patience so I am specific about cases I do take. However, while all of our trainers have favorite types of dogs to train, thats not to say that we aren't skilled at training any type of dog. We are a team, an FFK9 family and we will help each other if we need it.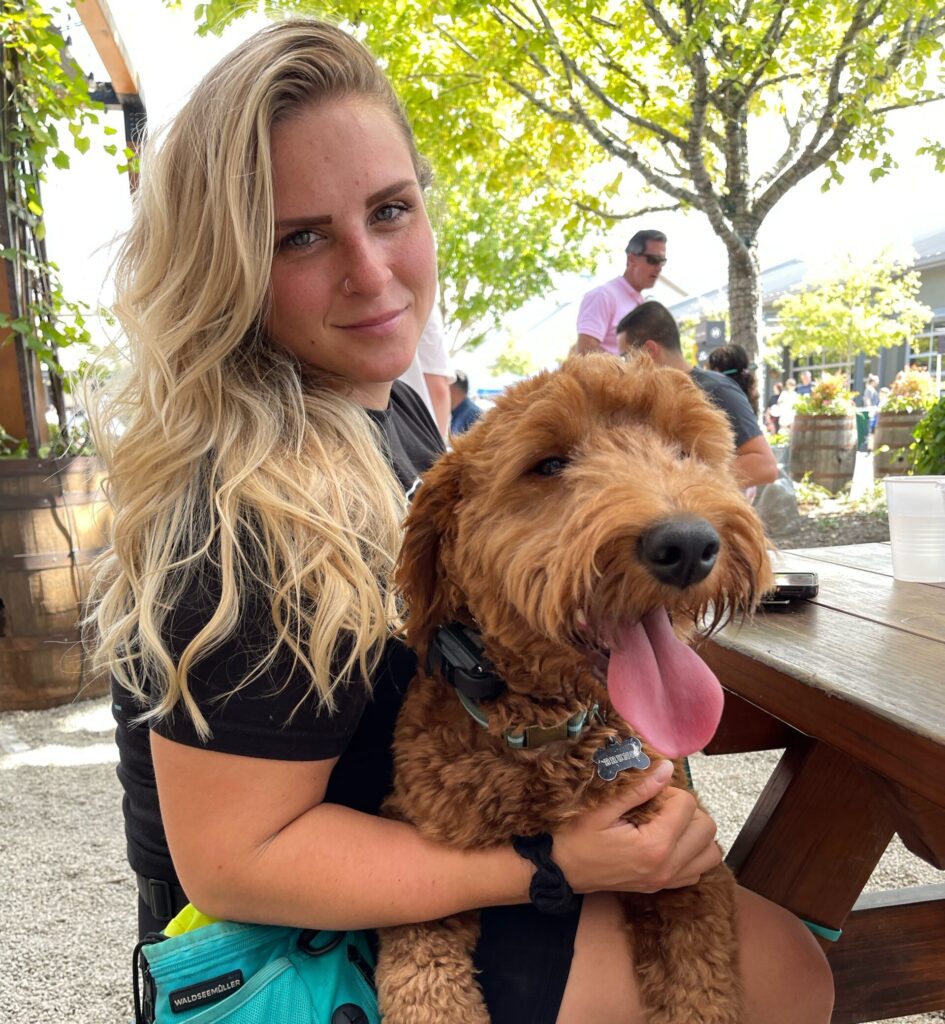 I took a position with a major dog training company, which helped me in many ways, but always knew I wanted my own business.
I am always open to learning new ways of training dogs and have learned from some of the best. I attended two dog trainer retreats at ValorK9Academy and learned a lot. I also studied under two very well know dog trainers at PatriotK9 to whom I am very grateful. I learned a lot by watching them work with clients and various types of dogs.
Now, after working with hundreds of dogs and their owners and gaining over 8 years of professional experience, I bring knowledge in how to build a better bond, a more focused dog, and reliable training outcomes for your specific dogs needs.
My goal for starting this business is to create happier families with their furry loved ones and how to get clients to better understand their dogs. Not only does this make for a smoother home life but it also can really open up so many opportunities for clients such as spreading what they've learned to other people who are struggling with their dogs!
Caesar is my 8 year old German Shepherd, heart and soul dog, and the inspiration to my career.
Caesar is a dual purpose dog. He is not only the demo dog for FullFocusK9, and sport dog, but also my personally trained partially retired mobility/medical alert Service Dog. Thankfully his son Kane, is slowly following in his footsteps to take over for my precious old man.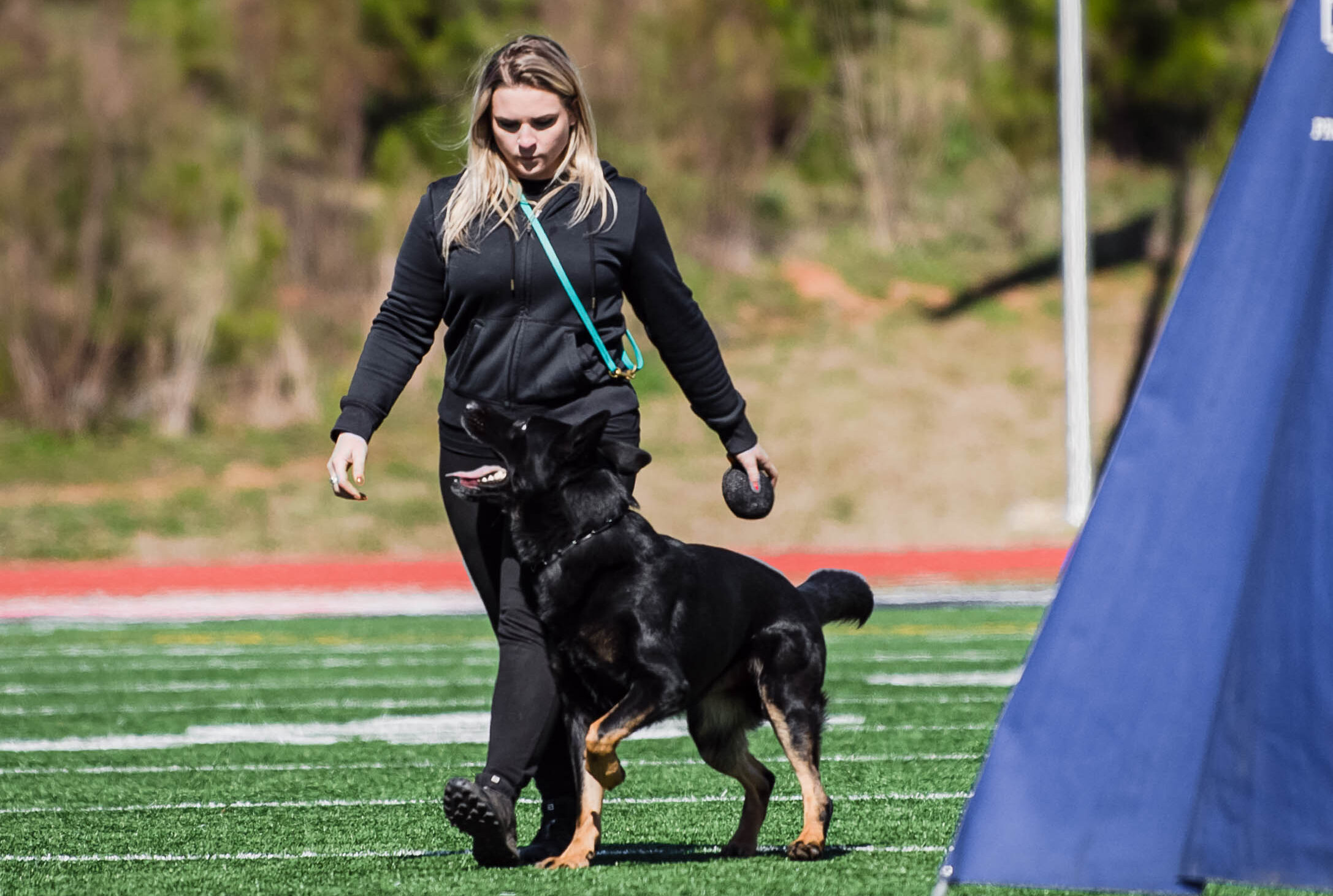 Through our experiences, I was able to meet people who have taught me the art and talent of dog sports. More importantly, I was able to become part of a great community and compete in various dog sports.

Together, Caesar and I hold over 10 titles in various dog sports including Dock Diving, Lure Coursing, Obedience, Tricks and Bite work with Protection Sports of America (PSA), Internationale Gebrauchshund Pruefund (IGP – previously known as Schutzhund), as well as Working Dog of America (WDA).

Having competed in many different avenues, I have a new respect for dog training. The sport world is definitely different from the pet obedience world, but it has taught me so much. I have learned to apply a lot of what I've learned from competing into dog training.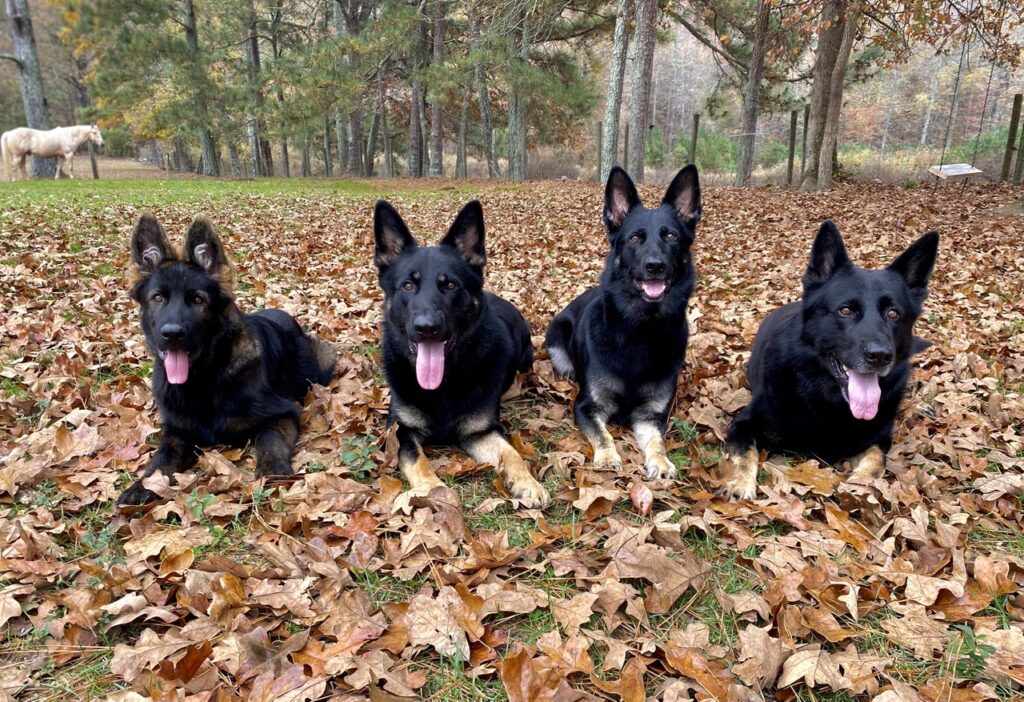 In addition to Caesar, I also have a German Shepherd named Davina and their son Kane! Thalia is my most recent German Shepherd.
Davina was raised primarily as my sport dog and we have earned a few titles. She accompanies Caesar when I go out to do demonstrations. Sit pretty are their favorite things to show off to people! She is very driven and has a different energy about her, so it can come in handy when testing dogs reactions.
Kane is an excellent all around social and fair dog. He knows when dogs want to be left alone but can also really help those nervous and insecure dogs come out of their shells! We earned our WDA FO title in 2022 and our Nadd DJ title in 2023! We hope to continue to compete in sports whenever we have time.
Thalia is a ball of fluff and ready to play. She is also helpful with the board and trains as she is playful but fair.
All of my dogs, including my four cats Monkey, Doja, Olaf and Elsa play a role in being helpers for FullFocusK9 in case clients need their dog to be worked around cats (who mind you, don't put up with any crap)! 
Our Balanced Dog Training Methods
At FullFocusK9 we use a variety if not all training methods, depending on the dog. But if you had to categorize us, it would be balanced training methods. You won't find a one size fits all dog program here because we believe that every dog is different but the way a dog learns remains consistent. Being balanced means we are skilled in every aspect of dog training whether that's rewarding the dog or providing corrections when necessary. We do not just ignore the negative behaviors, we work through them and make it a more positive experience.
We believe engagement, structure and clear communication is key. When you first get a dog, these are things you need to implement to set the tone and set the dog up for success. Foundation and clarity are key aspects in any relationship but especially with your dog, which is why we ensure they have a solid foundation by using positive reinforcement and operant conditioning, to teach or reinforce known cues or behaviors.
All of our training programs focus on relationship via confidence building, realistic expectations and consistent rewards. If a dog is food motivated, they will work for their dinner during training! If a dog isn't as food motivated, we will try to find an appropriate training treat. Some dogs love human praise and affection which can also be a reward for them.
Once the dog has a solid foundation and understanding of desired behaviors that have been taught, we reinforce the cues with training collars such as slip leads, prong collars, and/or e-collars. This is to ensure the dog is reliable in public, off-leash, and around major distractions. The use of tools are used for non-compliance once the dog has the foundation and understanding; we do not use the tools to teach a behavior or cue.
We never train by fear or intimidation, and we always put the dogs best interest first. Our training methods create a strong relationship between you and your dog and set you up for a lifetime of happiness and adventures! Your dog will eventually get excited when you break out the training equipment because they know they are about to go on an adventure!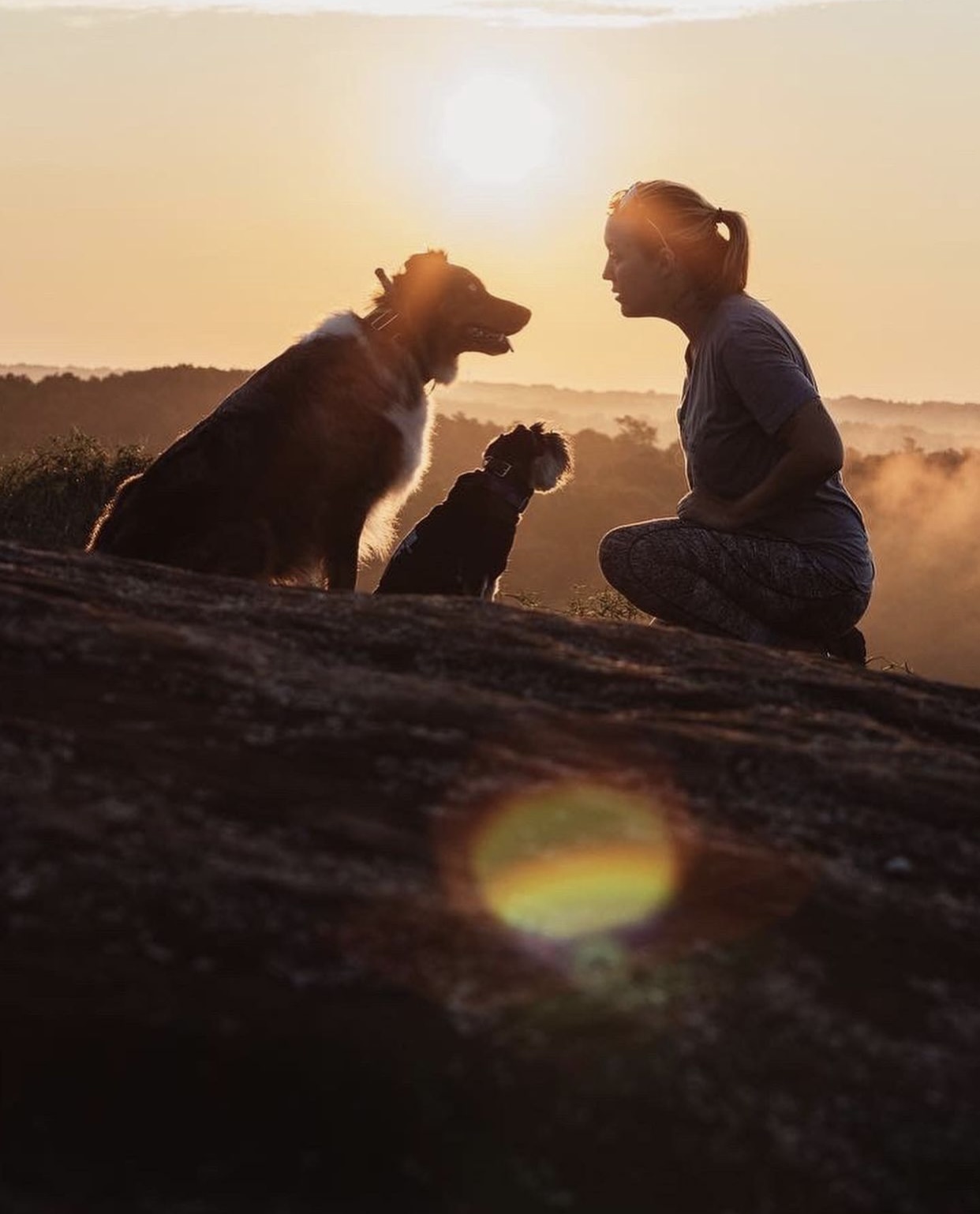 Our assistant trainers have been carefully selected to show the same ambition and passion as Mary does. All of our trainers attended an internship with Mary personally and had to "graduate" before starting to train dogs.

All of our trainers use the same balanced methods and have a slew of information as well. We guarantee that the results would be the same with our assistant trainers as it would be with Mary.

All of our trainers have their own niche that they prefer and are good at, so if you have any questions/concerns, please reach out!